Casas Adobes is a metropolitan city in Pima County, near Tucson. It is an upscale area and one of Arizona's best places to live. It's no surprise that Casas Adobes is gaining traction; it's a notably contemporary town with stunning vistas, exceptional arts and cultural scenes, and a population of young professionals. Let's explore the best neighborhoods Casas Adobes has to offer.
Best Neighborhoods in Casas Adobes
In comparison to other Arizona communities, Casa Adobes provides affordable housing and excellent educational facilities. Here are some of the nicest communities in Casas Adobes, along with excellent homes, excellent schools, retail centers, and exciting recreational opportunities: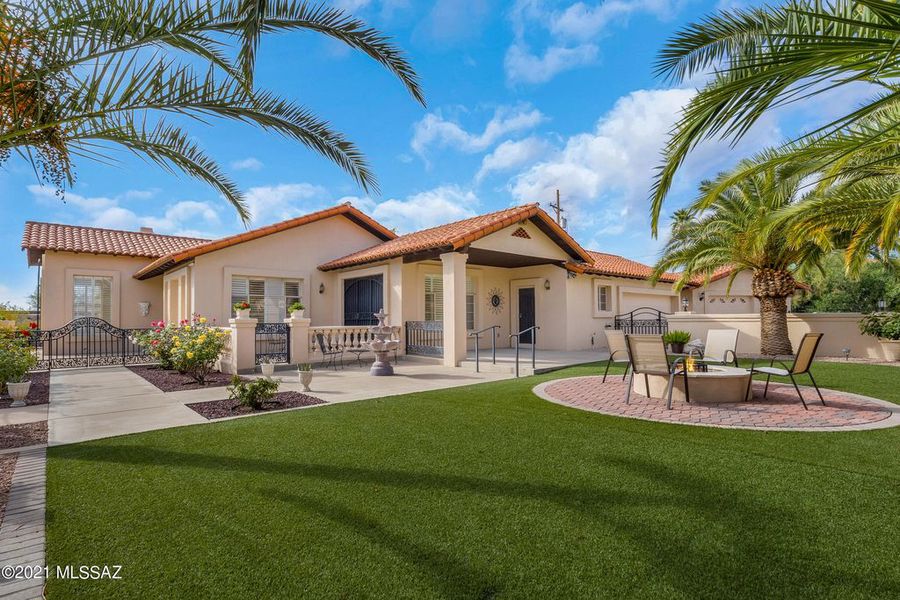 Tucson National Estates
The Tucson National Estates is a luxurious, sophisticated, and continuously expanding neighborhood with simple yet modern houses. Situated on the southside of Tucson, residents of this community get to enjoy a maximum level of serenity and an amazing Sonoran desert scenery, as well as a beautiful view of dawn and sunset.
Not only do residents get to be one with nature in this area, they also enjoy an exquisite dining experience from several restaurants such as Los Nopales and House of Cheng. Residents, tourists, and visitors may explore vintage sites in the region such as Saguaro National Park and Old Tucson; the scenic settings are extremely breathtaking.
This neighborhood ranks in the top half of the most diverse and best suburbs to buy a house in Arizona, plus it has a really low crime rate. For the kids, there are over 20 affordable public and private schools with top schools like;
University High School
San Miguel High School
Ida Flood Dodge Traditional Middle Magnet School
Barcelona Manor Condominiums
Located in the north area of Arizona, Barcelona Manor Condominiums is a premium neighborhood with an extensive range of modern home architecture. The estate provides a variety of high-value condominiums with the highest cost per square foot in Tucson.
This estate is a safe-guarded community with three military bases within an 81-mile radius that approximates roughly 30 minutes away from the neighborhood plus the Tucson Airport Air Guard Station close by. The estate also has three shopping centers, namely;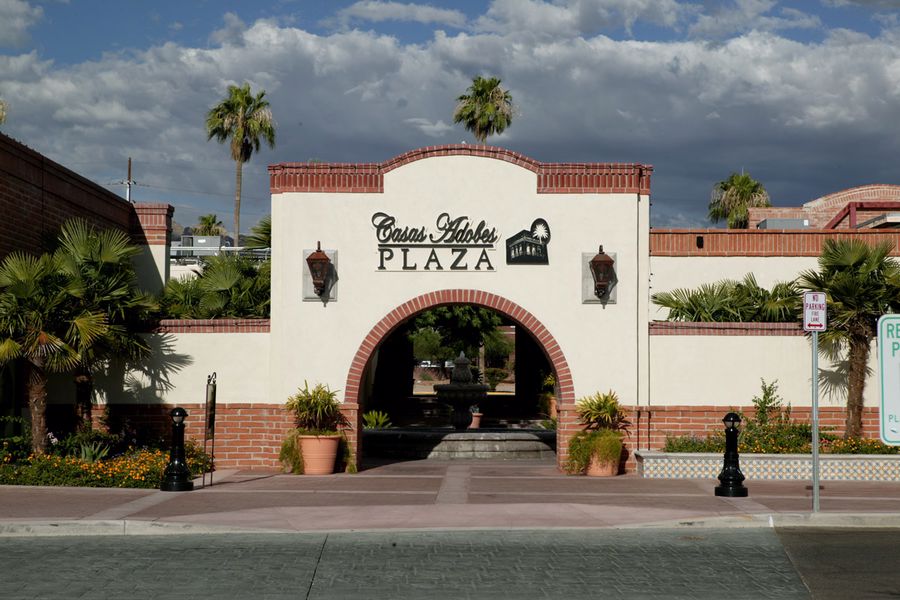 Orange Grove Village Shopping Center
These retail centers provide excellent shopping opportunities, and abundant parking, and are within a 10-minute walk.
Residents and their kids also get to enjoy fun-themed recreational centers and parks with scenic desert and picturesque mountain views, all within a walkable range of 10 minutes or less. Some of these parks include;
Flowing Wells Park
Tohono Chul Park
Like other premium neighborhoods in the Tucson area, Barcelona Manor Condominiums also offers its residents excellent restaurants with an extensive meal and wine and bar selections including:
Pueblo Villas
The Pueblo Villas Real Estate is a Tucson subdivision west of Oracle Road and north of river road. Similar to Tucson National Estates, the community is a high-end modern luxury real estate that features custom-built homes. The estate is a well-developed area and establishment with a number of houses dating back to the late 1960s and 70s.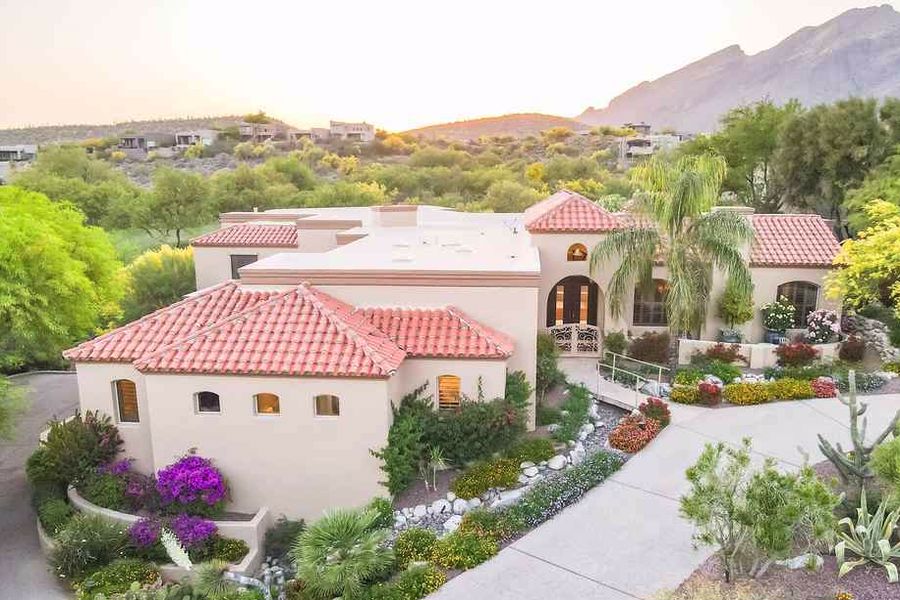 Most of the houses in Pueblo Villas have contemporary architectural designs and a southwest style that mirror society's rich culture. Residents of this community get to enjoy breathtaking views of Tucson City Lights and Catalina Mountains.
Families in the area are served by the Amphitheater School District which provides children with schools like:
Lulu Walker School
Rio Vista Elementary School
La Cima Middle School
The subdivision also offers fine dining and upscale restaurants that serve exquisite delicacies and an array of southern-style dishes. Some of these restaurants are:
The Cheesecake Factory
Red Lobster
Fiesta Lanes
Oracle Heights Estates
Oracle Heights is a well-established neighborhood located west of N Mona Lisa Road and south of N la Cholla Boulevard. It's a quiet and peaceful community with affordable midsize houses that offer plenty of parking space plus breathtaking views of the sunset and sunrise.
The area is a traditional ranch-style rural estate, with some structures dating back to the 1960s. Oracle Heights Estates residents are surrounded by nature and have a desert paradise vista with over five mountains encircling the town. It's ideal for outdoor activities like hiking and camping, as well as other leisure activities. Residents also have access to a community pool which is perfect for the summer months.
Several homes in this estate are equipped with ultra-modern amenities such as granite countertops, stainless steel appliances, wine storage, walk-in pantries, crown molding, sunrooms, and built-in bookshelves. In addition, it also offers a community pool, space for boat parking, and enough car parking spaces.
The neighborhood isn't lacking in entertainment and outdoor recreational activities either. People who live in Oracle Heights Estates can explore multiple recreational centers including;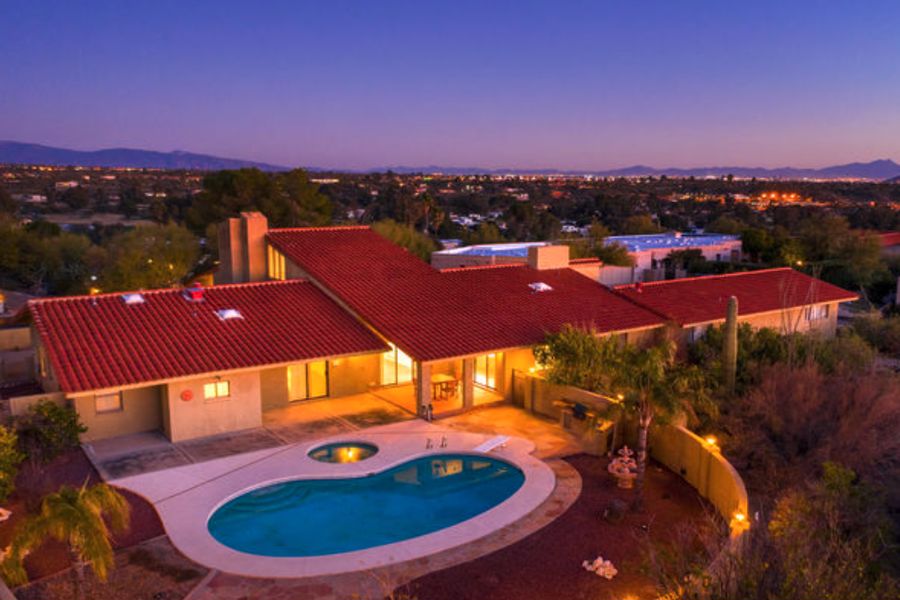 Crooked Tree Golf Course
Tucson National Golf Course
Catalina Foothills
The town also offers a strong educational foundation for children, as Amphitheater School District serves the area and gives access to schools such as;
Lawrence W Cross Middle School
Canyon Del Oro High School
Also, the community has a walkable distance to grocery stores and shopping malls such as Tucson Premium Outlets, Park Place, and the Tucson Mall.
Horizon Hills
Horizon Hills is a relatively small community in Casas Adobes next to N Thornydale Road and opposite W Briargate Dr. The neighborhood features single-family houses and condos surrounded by amazing views of nature and national forests.
Over 74% of residents are homeowners with the other 24% being renter-occupied households. Horizon Hills residents have access to quite a number of parks and recreational centers including Wildwood Park, Casas Adobes Park, Tucson Urban Loop, and Richardson Park.
In terms of education, this neighborhood is stacked with a number of schools such as Flowing Wells Junior High School, Thornydale Elementary School, Robert Richardson Elementary School, and Pima Community College.
The majority of the residences in this estate feature a mix of modern and rustic architectural styles, with some having unique designs. Horizon Hills residents, like Oracle Heights Estates residents, have plenty of parking and a panoramic view of numerous mountains.
Best Places to Live in Arizona
Conclusion
You can visit either of the aforementioned neighborhoods to ensure it aligns with your needs. If you are looking to buy or sell a house, contact AZ Flat Fee. Please fill out this form for more information on our services.