Phoenix, Arizona, is a great place to live for many reasons. Whether you are looking for professional opportunities, family life, or the perfect climate for holidays, there is something in this city that will appeal to you.
Phoenix Arizona Zip Code Map
Our Phoenix Arizona zip code map is a great way to determine what a fantastic area Phoenix Arizona is. Additionally, this map of zip codes on our website can help you discover which location in Phoenix appeals most to you.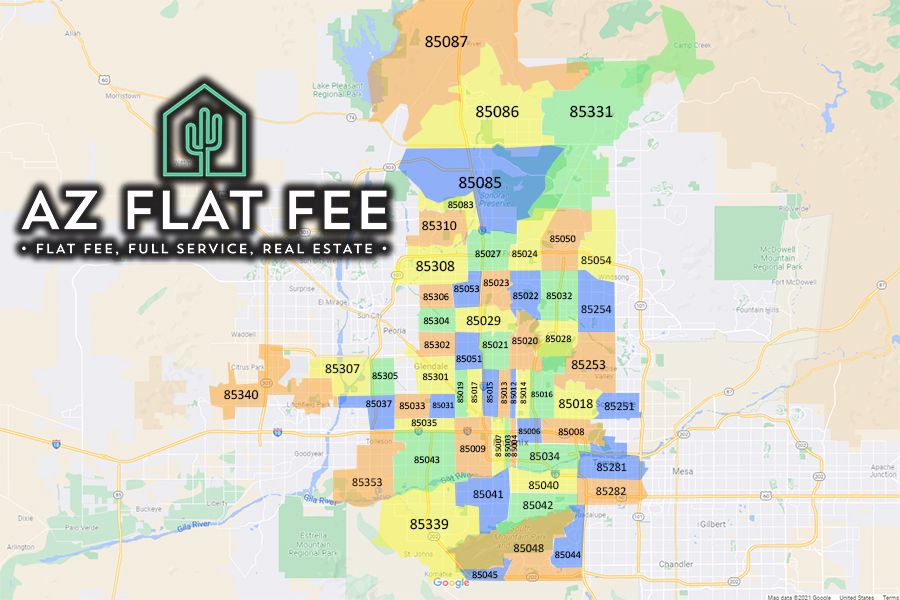 Phoenix AZ, Zip Code: 85045
Located 15 minutes from Phoenix Sky Harbor International Airport, Phoenix is the capital of the state of Arizona. It has a population of more than one million residents. Phoenix has long hot summers and short winters, making it great for holidays and outdoor activities. Additionally, there are several attractions like museums and parks such as:
Phoenix Art Museum
Hall of Flame Firefighting Museum
Phoenix Zoo
South Mountain Park
Phoenix has great healthcare facilities, with 56 hospitals and medical centers serving the city. Some include St Joseph's Hospital Center, Arizona Heart Institute, and Phoenix Children's Hospital.
Chandler, AZ Zip Code: 85286
Chandler is a city in Maricopa County and is part of the Phoenix Metropolitan area. The city has been known for agriculture as its primary business, especially in corn, cotton, and alfalfa. The agricultural culture has faded away with time and left behind traditions like the commemoration of the annual ostrich festival.
Chandler has plenty of recreational centers and parks such as:
The Paseo Vista Recreation Area Bark Park
Chandler Park
Chandler Community Center
Tumbleweed Recreation Center
The city has several elementary, secondary, and post-secondary schools. The Chandler unified school district serves most areas of Chandler. There are several private education institutions as well including Chandler-Gilbert University College, International Baptist College For Public Institutions, and the Western International University
There is also the Chandler public library that serves Chandler and the greater Phoenix east area. Chandler also has reliable transport systems including Chandler municipal airport and the union pacific railroad.
Gilbert, AZ Zip Code: 85233
Gilbert is a town in Maricopa County, a suburban center with diverse economic value and fast population growth. It receives very little rain with hot summers and warm winters.
The town of Gilbert is rated as having the lowest crime rates in the United States, making it a safe place for residence. Gilbert also has available schools such as Gilbert Christian groups, Legacy Traditional School, Eduprize School, and the American Leadership Academy.
Gilbert is close to the Phoenix-Mesa Gateway Airport and is a 25-minute drive from Phoenix Sky Harbor International Airport. If you are on the lookout for a town that has several recreational centers, Gilbert has plenty of options, such as the Desert Sky Park and Gilbert Regional Park.
Litchfield Park AZ Zip Code: 85340
Litchfield Park is located 20 miles from Phoenix in Maricopa County, with a population of 6,436 according to the United Census Bureau in 2019.
Tierra Verde Lake Park is one of 10 parks in Litchfield. It offers areas for jogging, biking, walking, as well as a fishing dock. Although Tierra Verde Lake Park does not offer a playground, additional parks that have play structures include:
Staggs Park
Turtle Park
Camelback Park
Aleppo Park
The Litchfield Elementary School District is an A-rated school district and is in the top 10 of all public school districts in the entire state.
Queen Creek, AZ Zip Code: 85142
Queen Creek, a town in Maricopa and Pinal counties, is overflowing with culture; it has the Queen Creek Performing Arts Center, Queen Creek Library, Equestrian Centre, and Horseshoe Park, which hosts regional events at its Family sports complex.
There are plenty of employment opportunities thanks to companies like the Queen Creek Olive Mill, a company in extra oil virgin production. The town of Queen Creek has 14 schools within the Queen Creek Unified School District.
Several of the public schools are an A+ School of Excellence. Such as Desert Mountain Elementary School and Frances Brandon-Pickett Elementary School. For higher education in Queen Creek, Rio Salado College is accredited by the Higher Learning Commission offering associates degrees and partnerships with four-year universities for easy transfer.
Tempe, AZ Zip Code: 85284
Tempe is an inner suburb in the city of Phoenix with a dense urbanized development pattern in the northern part. Tempe is probably best known for being the home of Arizona State University, a very popular and large college. The city experiences a unique desert climate with a higher daily temperature than Phoenix.
Tempe has a variety of employment opportunities given the presence of companies such as State Farm Insurance, ABM industries, and Wells Fargo. It is well served by transport systems like the Valley Metro Rail system and the Phoenix Sky Harbor International Airport, located 2 miles northwest of Tempe.
The town also has schools that serve the Tempe region, such as Tempe elementary school District and Tempe Union school district. Tempe also has three main universities, Arizona State University, Rio Salado Community College, and Maricopa County Community College.
Scottsdale AZ, Zip Code: 85251
Scottsdale is a city on the eastern side of Maricopa County. The Scottsdale Museum of Contemporary Art and events like the annual Scottsdale Arts Festival are great for individuals and families that enjoy immersing themselves in culture.
Scottsdale is nationally known and is highly regarded as a resort city. This area boasts lots of high-end resorts and hotels and is very popular for tourists to visit during the winter months.
Paradise Valley AZ, Zip Code: 85253
Paradise Valley town is the most wealthy suburb of Phoenix with its exquisite real estate and resorts. The town is known for its shopping, luxury golf courses, and restaurant scene.
Paradise Valley is Phoenix's number one tourist destination, and it has vast employment and business opportunities. The town also has a rich economy that is fostered by tourism activities in the area.
Paradise Valley is served by Creighton Elementary School District, Phoenix Union High School District, and has several charter schools. 
[lyte id='maTXjwvJq1A' /]
Conclusion
Phoenix, Arizona has excellent recreational facilities for families, schools for children, and universities for adults. There are also many good entertainment arenas in the area. In addition, the cost of living is affordable. If you are considering buying a home in Phoenix, contact us to get a full service realtor experience for a low flat fee!