Mesa is a city within Maricopa County in Arizona, east of the Phoenix Metropolitan Area. It is the 38th largest city in the United States and the 3rd largest city in Arizona after Phoenix and Tucson.
Mesa offers a beautiful landscape and a desert climate that's far from being empty and lifeless. It's great for everyone, from families and retirees to new professionals. With so many options, our Mesa Arizona zip code map can help you discover which location in this city is the best for you.
Mesa Arizona Zip Code Map
If you are looking for the best place to live in Mesa, Arizona, here is a breakdown of the most popular zip codes. From peaceful and welcoming houses for your family to great retirement opportunities in the East Valley, there's something for everyone in this city. As a student, you will enjoy learning at some of the top institutions Mesa has to offer.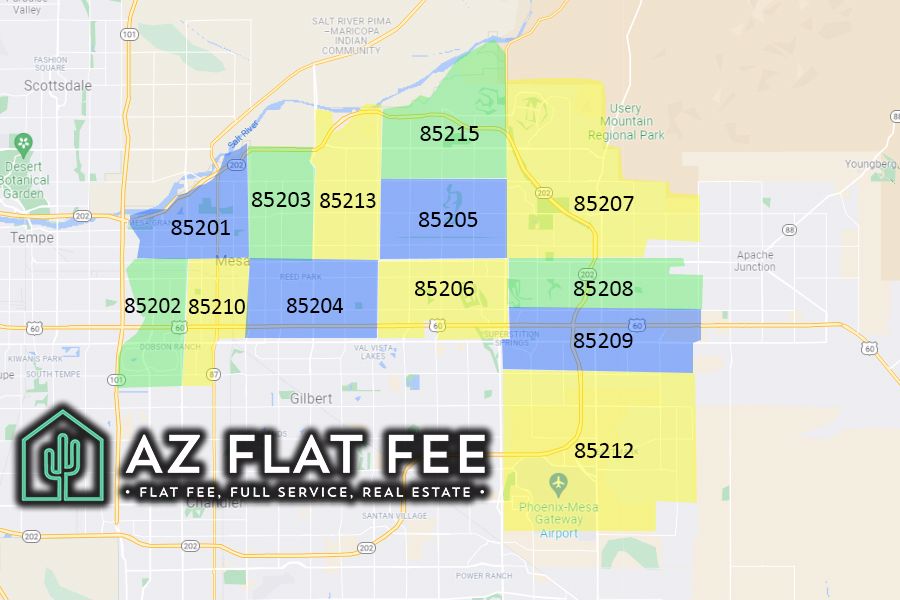 Mesa covers 19 zip codes. Residents live on a sprawling grid separated by low hills that frame an excellent view of the desert landscape. Since it's such a big city, we will cover the most important places in Mesa by region instead of zip codes.
Northeast Mesa, AZ
Northeast Mesa is one of the most luxurious places someone can relocate to. In this part of the city, you'll find great neighborhoods such as Mountain View (85213), Longbow (85215), Las Sendas (85207), and Alta Mesa (85205).
If you enjoy spending time in nature, the Usery Mountain Recreational Park provides breathtaking views of the Superstition Mountains.
Southeast Mesa, AZ
Southeast Mesa is an excellent place for professionals. It provides reasonable housing options as well as great restaurants, parks, and shopping centers. This part of the city provides a warm and friendly environment for meetings during the day and family dinners at night.
There are 538,146 people in Southeast Mesa based on the latest US census. Unemployment rates lie below 5.9 percent, making it competitive in the job market. Regions like Eastmark (85212) and Mulberry (85202) offer great opportunities for families to enjoy themselves, socialize, and create lasting relationships.
Central Mesa, AZ
Central Mesa is one of the safest areas of the city; streets have less traffic, and the crime rate is lower than the national average. It offers great training venues for baseball fanatics, including the Hohokam Stadium and Sloan Park. Also, there are many highly rated educational institutes, such as:
Carrington College (85210)
DeVry University (85210)
Pima Medical Institute (85202)
CAE Phoenix Aviation Academy (85215)
Mesa Community College (85202)
The region's monthly average household income is $58,181. A wonderful example of what to expect in Central Mesa is the planned community of Dobson Ranch (85202) that offers a safe place to live with three recreation centers and several lakes.
Eastmark, Mesa, AZ Zip Code: 85212
Eastmark is on the southeastern side of Mes. There are many highly rated schools and recreational facilities such as swimming pools, community events, and youthful programs within the region.
The community is friendly not only for families but pets and there are several off-leash dog parks. Eastmark has also been named as one of the nation's best-selling master-planned developments.
Las Sendas, Mesa, AZ Zip Code: 85207
In Las Sendas, you'll find plenty of recreational options like the Las Sendas Golf Club. Las Sendas is one of the most luxurious places in Mesa.
Naturally, most properties on sale in Las Sendas are on the higher side. However, there are a few properties with moderate prices as well. The real estate market has appreciated 8.2 percent for the past ten years scoring 70 out of 100 in market competition.
Red Mountain Ranch, Mesa, AZ Zip Code: 85215
Red Mountain Ranch has six lighted tennis courts, a golf course, and private venues. You can find gorgeous parks, art venues, and excellent shopping centers. The housing score is 76 out of 100 accounting for a 7.8 percent appreciation rate.
Alta Mesa, Mesa, AZ Zip Codes: 85205, 85215
Alta Mesa is one of the safest places to relocate to in Mesa. In a typical year, the crime rate is 27.28 per 1,000 residents. That safety helps locals to enjoy the many recreational opportunities Alta Mesa has to offer.
For instance, the Mesa Greenbelt Park runs through the middle of the Alta Mesa neighborhood.
The Alta Mesa Golf Club is the top private club for social gatherings, recreation activities, and special exclusive events. The golf club offers a clubhouse where residents gather after playing.
Desert Uplands, Mesa, AZ Zip Codes: 85207, 85215
Desert Uplands is just southeast of Las Sendas. It is big enough for relocators to build their properties. The community has award-winning institutions where young residents can attend, including the Red Mountain High School, Fremont Junior High School, and Pathfinder Academy.
Desert Uplands is a prosperous and safe place with a low crime rate per resident. Residents enjoy the eco-friendly, quiet, and peaceful desert life.
Conclusion
Mesa residents acknowledge it as one of the safest cities in Arizona. It is among the safest metropolitan cities to live in the United States. Crime rates have been lower than average over the past decades allowing residents to enjoy the secure desert city life. If you are considering buying a home in Mesa contact us to get a full-service realtor experience for a low flat fee!