Tucson, Arizona offers plenty of affordable options to live, with the living cost being 6% lower than the state average. Sunny skies and a warm climate make Tucson a great residential area. Discover the best places to buy a property in this area with our Tucson Arizona zip code map.
Tucson Arizona Zip Code Map
Apart from the good weather conditions and amazing parks, Tucson has a total of 49 zip codes. Our zip code map focuses on Tucson's best residential zip codes, so you can make an informed decision when it comes to purchasing a home.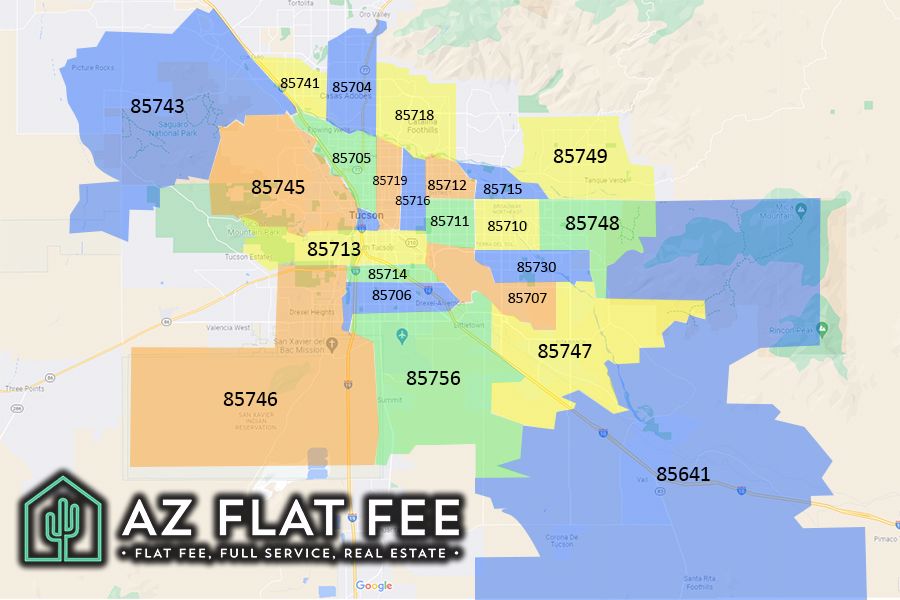 Tucson AZ, Zip Code: 85701
The Zip Code 85701 is contained within the city limits of Tucson, primarily located in the county of Pima. Compared to other zip codes in Tucson, this is socioeconomically classified as lower-middle-class, with around 79.80 percent of the population earning less than $50,000 per year.
With the cost of living 8 percent lower compared to the national average, it's a great place to live in. The homes are affordable, with the cost of a median home ranging around $244,100. You'll also find highly rated schools like:
Carrillo Intermediate Magnet School
Davis Bilingual Magnet School
Envision High School
Paulo Freire Freedom School
Drachman Primary Magnet School
Safford K-8 School
Cape School
In case you are looking for a place to relax and pass the time, you'll find great recreational sites such as:
Armory Park Center
Santa Rosa Recreation Center and Park
Oury Recreation Center
There are plenty of excellent hotels in this area such as the El Amador, Hotel Tucson City Center, Red Lion Inn & Suites, the Ramada, and Travelodge. These are great locations for your out of state friends or family to spend a few nights while visiting.
With colleges and universities such as the Aveda Institute, University of Arizona, and Southwest University of Visual Arts, you will not have to worry about higher learning institutions for your children in the future.
Tucson AZ, Zip Code: 85705
Located in the center of the Tucson metro area, and is one of the smaller zip codes within Arizona. It does have a high population density of 4,231 people per square mile.
In terms of housing and real estate, it only has 14 percent of vacant households, which is less than the average in the country. Still, with a median home costing around $78,200, houses in this area are more affordable than the national average.
Although the median household income average of $23,769 is lower than other zip codes in Tucson, it still indicates good living standards in this area.
In terms of education, you'll find plenty of highly-rated schools that are easily accessible from the residences in the area. Such schools include:
Paulo Freire Freedom School
Tapp High School
Carden of Tucson
Flowing Wells High School
Homer Davis Elementary School
Roskruge Bilingual Magnet Middle School
Also, it's a great place for makeup artists and students passionate about the beauty industry who wish to advance their studies in the Tucson College of Beauty.
Tucson AZ, Zip Code: 85716
Just north of the East Aviation Parkway, you'll find the 85716 zip code area. With a total population of 32,853 and a population density of 4,658 people per square mile, it's a heavily populated area.
Compared to the other zip codes in the United States, there is a small number of children under 18 years. Many of the houses in this place are built as single family homes, with a median home value of around $176,900.
If you like biking or walking to work, this is a great place as there is a large number of people who don't use vehicles to commute, and you can reach your office in less than 45 minutes. Also, your kids can attend any of the nearby following schools:
Amerischools Academy
Basis Tucson Primary
Academy Adventures Midtown
Doolen Middle School
Robinson Elementary School
Cragin Elementary School
Blenman Elementary School
Colleges and institutions such as the Arizona School of Acupuncture and Oriental Medicine, the Empire Beauty School, and the Pure Aesthetics Natural Skincare School offer several options to advance or start your career.
Tucson AZ, Zip Code: 85711
Between the East Golf Links Road and the East Speedway Boulevard, the zip code 85711 has many homes and townhouses available. A land area of 8.55 square miles and a total population of 41,251 translates to 4,824 people per square mile, making this zip code densely populated.
If you love fresh fruit and vegetables, there are outstanding stores easily accessible that offer you a one-stop shopping place for all your needs. We recommend the Fifth Street Deli & Market, and the Sprouts Farmers Market.
With gas stations like the QuikTrip, you'll always have a place to refuel nearby. Also, you will enjoy your meals in famous restaurants such as:
Calle Tepa
Cheddar's Scratch Kitchen
Pita Jungle
Oregano's Pizza Bistro
Finally, the 85711 area has some of the top-rated public schools in the state, including:
Borman Elementary School
Annie Kellond Elementary School
Howell Peter Elementary School
Mansfeld Middle School
Palo Verde High Magnet School
Sky Islands High School
Even more, you can advance your studies in popular colleges like the Arizona College of Nursing.
Tucson AZ, Zip Code: 85745
Located in northeast Tucson and just south of the Tanque Verde Wash, the zip code 85745 is mostly populated with young adults ranging from the late 20s to early 40s.
Compared to the rest of the United States, the median home cost of $192,500 is slightly high. You'll also find some highly rated schools in the state, so you don't have to worry about your kids' education. These schools include:
Accelerated Learning Laboratory
Nosotros Academy
Tucson International Academy
Also, you can further your studies at the high-ranking Arizona State University. If you love enjoying eating outdoors, restaurants like the Barista Del Barrio and Ocotillo Cafe offer you the best dining experience.
[lyte id='MMQw3iofsk0′ /]
Conclusion
Whether you want to advance your studies or need a school for your child, Tucson has top-rated schools, colleges, and universities. With a relatively low cost of living, it's a good place for all socioeconomic classes. If you are considering buying a home in Tucson, contact us to get a full-service realtor experience for a low flat fee!