Gilbert, Arizona, is a town that keeps growing. With the ever-changing landscape of Gilbert's real estate market, it is only natural for people looking for real estate opportunities to keep up. If you are interested in learning more about the area, this Gilbert Arizona zip code map is for you.
Gilbert Arizona Zip Code Map
Whether you are looking for new, exciting job opportunities, affordable real estate options, or a place in which you can get in touch with nature, Gilbert's got something for you. Our Zip Code Map can help you stay updated with the most current information and details to help you find your new home in Gilbert, Arizona.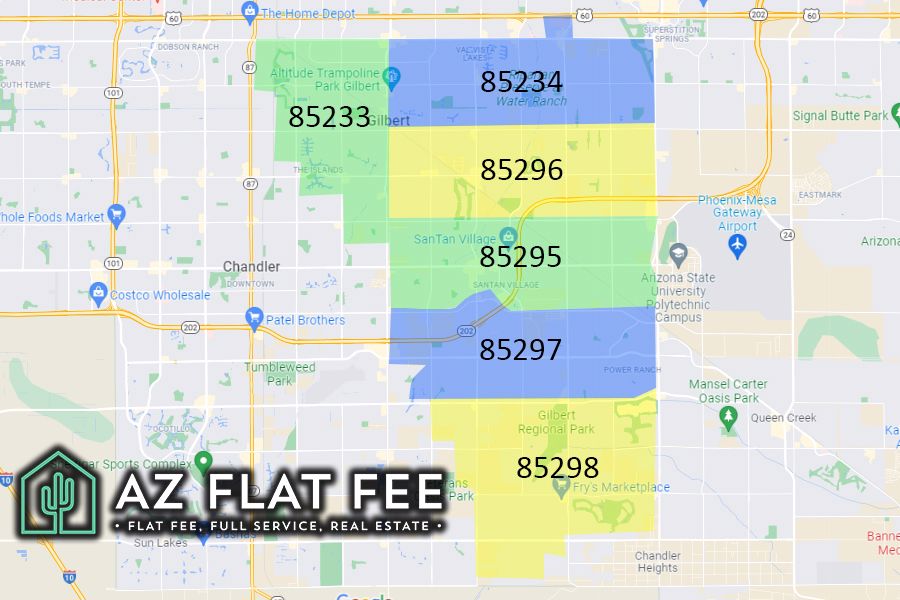 An Introduction to Gilbert Arizona
Gilbert's charm lies in its many spectacular natural attractions. From the Superstition Mountains and the famous Lost Dutchman's Gold Mine to the Tonto National Forest and the Saguaro National Park at the south; Gilbert offers a diverse scenery from rugged deserts to pine forests.
Gilbert's a town of about 250,000 people, located approximately 40 miles east of Phoenix. It is also the center of the state's agriculture industry, with about 80 percent of its farmers living within a 10-mile radius of the city. Its outstanding educational resources and facilities aim to make the area more appealing for young people to relocate to.
The town of Gilbert in Arizona consists of six major zip code areas: 85233, 85234, 85295, 85296, 85297, and 85298. Let's talk about each zip code area in greater detail.
Gilbert, AZ Zip Code: 85233
The 85233 area code is located in the heart of Gilbert, Arizona. It starts from the border to Chandler's neighboring city at Arizona Avenue, Gilbert Road, and Baseline Road to Ray Road.
Some notable neighborhoods in this area code include Lago Estancia, The Islands, El Dorado Lakes, Crystal Point Estates, and Playa Del Rey Estate.
Most houses in this area were primarily built in the 1990s. The average house value is $217,400, a little more than the average in the rest of the country. Most typical properties in this area include homes that serve as primary residences, apartments, and townhouses.
Gilbert, AZ Zip Code: 85234
Right next to the 85233 zip code, this area starts from South-East of Gilbert Road and Baseline Road and proceeds to North-West of Power Road and Elliot Road.
Some notable neighborhoods include Val Vista Lakes, Stonebridge Lakes, Morrison Ranch, and Wind Drift. You can expect extravagant artificial lakes, sports parks, swimming lagoons, and spacious clubhouses for a resort lifestyle.
In terms of real estate and housing, this zip code has only 6 percent of households vacant with an average home value of $223,100 that is a little more than the national average and the rest of Gilbert.
Gilbert, AZ Zip Code: 85296
The Gilbert AZ zip code 85295 is south of the 85234 area with boundaries starting from the Gilbert Road towards the east, the Power Road, and Ray Road until the Pecos Road.
This area offers luxurious homes and multiple open common areas with all types of recreational facilities. Some excellent neighborhoods to look out for include the Gilbert Ranch, Ashland Ranch, Lyon's Gate, and Spectrum at Val Vista.
With only a small 6 percent of vacant houses and a home value of $223,100, it can be difficult to find a property in this area. This is one of the nicest parts of this town, with an average household income of $76,632.
Gilbert, AZ Zip Code: 85296
The 85296 area is located south of 85295 in Gilbert Road, Power Road, and the Elliot Ray Road boundary. Most of the houses in this area were built in the 90s, and with 20 percent of vacancies, you're more likely to find a great opportunity here.
This area offers several thriving commercial businesses surrounded by outdoor spaces and two large artificial lakes. If you want to have fun, you can always grab some clubs and book a tee time on the Greenfield Lakes and Western Skies golf courses.
Gilbert, AZ Zip Code: 85297
Gilbert AZ 85297 is located from Gilbert Road to Power Road and Pecos Road to Queen Creek Road boundary. This is one of the nicest parts of Gilbert, with a more affluent demographic and an average house income over $80,000.
In this area, you'll find mostly craftsman-style homes with cut grass lawns. Most houses in this zip code were built in the 2000s, with an average home value of $228,000, which is a little higher than the national average. If you're in the neighborhood, you have to check out the Power Ranch, Layton Lakes, or the Coronado Ranch.
In terms of education, the most prominent schools in this area include:
Arizona Connections Academy
Quartz Hill Elementary
Campo Verde High School
Centennial Elementary School
Perry High School
Gilbert, AZ Zip Code: 85298
Last on the list is the Gilbert AZ 85298 zip code, starting at South-West Power Road and Queen Creek Road, South until Hunt Highway. Some notable neighborhoods in this area include Adora Trails, Seville, The Bridges, and Freeman Farms.
In terms of real estate and housing, now it's a great time to buy a house in this area. Home appreciation has been increasing up to 7.4 percent in the last 12 months with an average home value of $403,700.
Employment opportunities and job growth in this area are also rising with a 3.3 percent increase and a great unemployment rate of 4.5 percent. Slightly lower than the national average of 6 percent.
Life in Gilbert Arizona 4K
Conclusion
We hope our Gilbert Arizona zip code map has provided you with significant information and data about Gilbert. Now, you're more prepared to make an educated choice about living in this area. If you are considering buying a home in Gilbert, contact us to get a full-service realtor experience for a low flat fee!