Chandler is a great place to live, with an excellent school system and plenty of public transportation options. If you're interested in buying a property in this area, our Chandler Arizona zip code map will provide you more information about the top neighborhoods in this city to help you decide which location suits you best.
Chandler Arizona Zip Code Map
Whether you are looking for new employment opportunities, a warmer climate, or a city with a rich culture and history, there's something for everyone in Chandler. Let's find out what this little suburban paradise has available for you.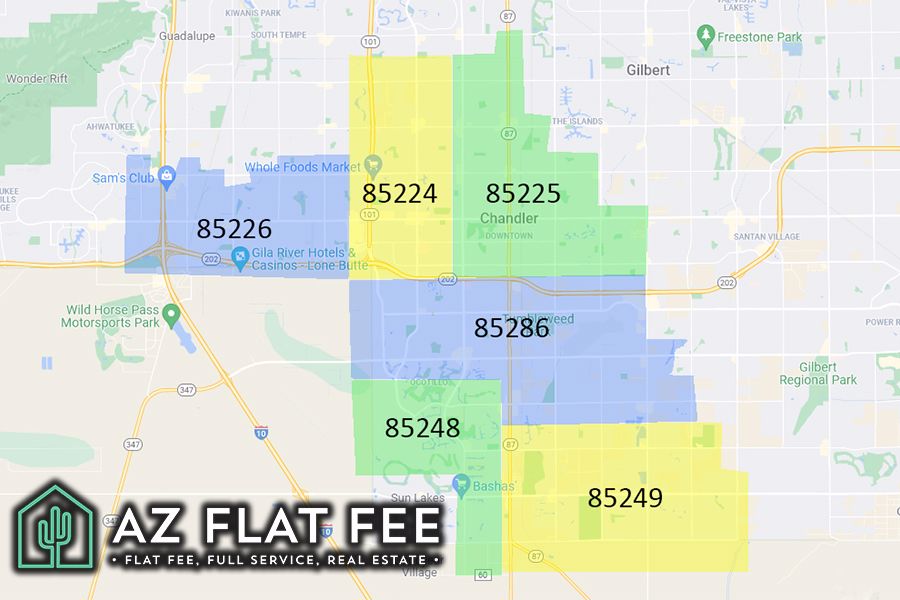 Chandler AZ, Zip Code: 85249
ZIP code 85249 is located in central Arizona and has an average population of 3,600 people, with an average home price of $567,891.
In case you need to relax, the city has a variety of recreational centers such as:
The Lone Tree Golf Club on Mountain Boulevard,
The Tumbleweed recreation center located on Germann Road,
And the Environmental Educational Center on Chandler Heights Road.
There are plenty of excellent restaurants where you can enjoy mouthwatering culinary creations, such as Pita Jungle on Chandler Heights, Tryst Cafe, and The Wild Vine Uncorked.
This area is served by several highly rated schools, such as:
AZ Compass Prep School
Chandler High School
Santan Elementary School
Legacy Traditional School
Champion Schools – Chandler
Many of the schools in this area focus on Academics, Arts and Athletics to provide a complete educational experience to their students.
Chandler AZ, Zip Code: 85286
The 85286 zip code covers a densely populated area in the southern part of Chandler. This part of the city has excellent restaurants such as the Firebirds Wood Fired Grill and Nando's Mexican Cafe.
Here, you'll find an excellent elementary school system with several locations having honors level curriculums, small classroom sizes, or an A+ School of Excellence. These include:
Lincoln Preparatory Academy
Archway Classical Academy Lincoln
Haley Elementary School
Hancock Elementary School
Tarwater Elementary School
Chandler is a thriving place for new companies with various business complexes such as:
Chandler Airport Center
Chandler Business Alliance
It is also the home of the main airport in Chandler: The Chandler Municipal Airport. Allowing for quick transport to and from the airport for families that frequently travel.
Chandler AZ, Zip Code: 85226
This zip code comprises the western side of Chandler city and features many attractive locations.
For instance, the Chandler Fashion Center is a well-known shopping center for residents with lots of dining options and great shops. Business centers like the Chandler Business Center, Stellar, and Chandler Gateway Office Park make it a great location for entrepreneurs or remote workers who also need office space.
Do you enjoy spending time outdoors? This area has plenty of parks like Desert Breeze Park, Chandler Park, and the Veterans Oasis Park, where you can have a great time simply by taking a walk.
A great school system serves the area with fantastic elementary, secondary, colleges, and universities. Some schools include the Champions School, Chandler High School, Chandler Early College High School, and The University Of Arizona – Chandler.
Chandler AZ, Zip Code: 85244
The zip code 85244 covers an area of 9.36 square miles in central Arizona. It has a total population of 42,796, with an average of 4,571 people residing within a square mile, making it densely populated.
With a median household income of $62,263, the cost of living is suitable for most socioeconomic classes. When it comes to real estate, the median home value is around $171,200.
This zip code is mostly a business area served by a variety of schools at all levels of education. You'll find exceptional schools like the Bright Beginnings School, which ranks in the top 5% of all schools in Arizona for overall test score; and the Skyline Prep High School, with one of the highest graduation rates in the State.
If you are thinking of settling here, you don't have to worry about access to medical services. The area is also rich with health care centers such as Chandler Regional Medical Center, Dignity Health Arizona Specialty Hospital, and Dignity Health East Valley Rehabilitation Hospital.
Chandler AZ, Zip Code: 85225
With an average population density of 5,462 people per square mile, the 85225 area is densely populated.
However, with a land area of 12.78 square miles, this zip code is smaller in size compared to other zip codes in the US. In terms of real estate, the home value ranges around $163,300, which is higher compared to the national average.
For sports lovers, this area offers several recreational centers. Such as the San Marcos Golf Course and the Chandler Community Center. The Chandler Senior Center is dedicated to offering affordable leisure options for senior adults and those with disabilities.
Your kids' education is in good hands in this area. The area has a variety of schools from elementary to high schools that are open for enrollment. The schools include:
Frye Elementary School
Chandler High School
Chandler Early College High School
Chandler Traditional Academy-liberty Campus
Chandler AZ, Zip Code: 85248
The 85248 zip code covers a land area of 30.23 square miles in central Arizona, making it smaller than the average zip code in the US.
With a total population of 29,821 and an average population density of 986 people per square mile, it's clearly less dense than the zip code 82225. In terms of real estate, it has around 16,773 house units, with a median home costing around $266,400.
Although this value is higher compared to the neighboring zip codes, the living standards in this area are high, with a median household income ranging around $68,291.
If you love sports, the Snedigar Recreation Center and Snedigar Sports Complex offer facilities for soccer, baseball, skating, and cricket. Also, the Hamilton Aquatic Center is a community water park with a lazy river, play, and competition pools.
In terms of quality education, you'll find a variety of great schools, colleges, and universities. Some of the schools include:
Basha Elementary School
BASIS Chandler
Chandler Unified District School
Chandler-Gilbert Community College – Sun Lakes Campus
Chandler Traditional Academy – Independence Campus
[lyte id='swe9wBBs34A' /]
Wrapping Up
If you want the best of everything in Arizona, from schools, recreation centers to medical facilities and security – then Chandler is the place to be. If you are considering buying a home in Chandler, contact us to get a full service realtor experience for a low flat fee!