Phoenix is a beautiful place to live. Affordable cost of living, year-round sunshine, and breathtaking mountain views make this place a great place for both retirees and millennials. If you're considering relocating to this exciting place, here are the best neighborhoods in Phoenix.
Best Neighborhoods in Phoenix
If you're considering changing your lifestyle for a competitive job market and warm weather, Phoenix is a good place. Apart from year-round pool season and enjoyable desert adventures, you also have a great list of neighborhoods to choose from.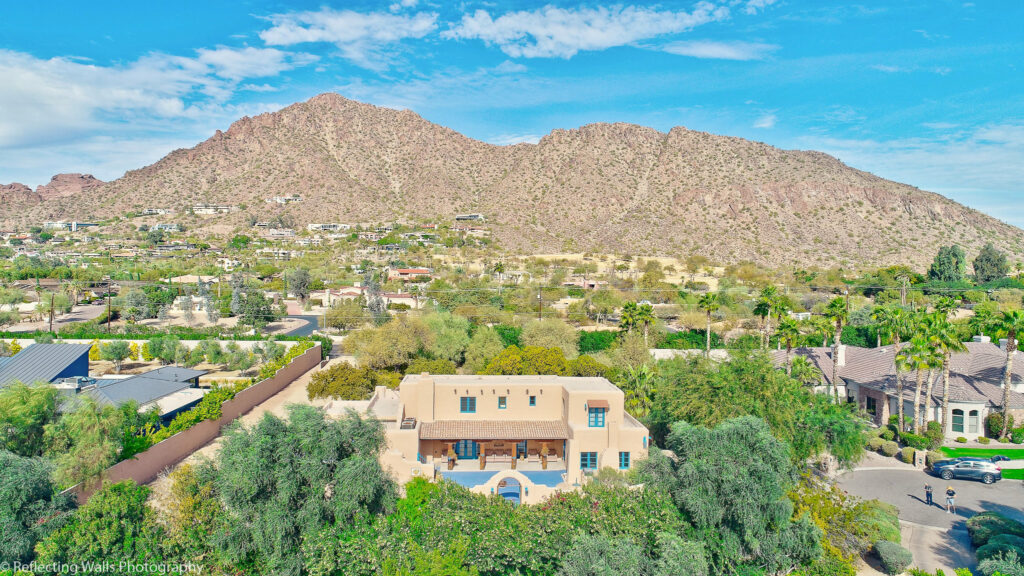 Ahwatukee Foothills
Ahwatukee Foothills is located about 15 minutes southeast of the downtown area. Its delicious local restaurants, golf courses, great location, amazing nature sceneries, and shops make it one of the most popular neighborhoods in Phoenix. Welcoming neighbors and lower crime rates inspire many new families to relocate to this place.
Moreover, Ahwatukee has numerous amenities like the South Mountain Park, one of the biggest municipal parks in the country, as well as many community events like the Ahwatukee Chili Cookoff that keep residents close. Like Paradise Valley, moving around Ahwatukee Foothills is easy and many locals bike to and from the town.
There are also numerous children's play places like the Urban Air Trampoline Park, Pump it Up, and Bounce-A-Rama. This neighborhood has innovative schools with a curriculum that stimulates socio-emotional growth and intellectual curiosity. The schools include::
Kyrene Centennial Middle school
BASIS Ahwatukee
Summit School of Ahwatukee
If you like eating out, you can enjoy tasty meals at places like Spinato's Pizzeria, Caffe Boa, and Trattoria D'Amico. When it comes to homes, Ahwatukee offers different house styles including the Mediterranean, Spanish mission, and Contemporary style.
Paradise Valley
This neighborhood is located north of Scottsdale and provides a vibrant restaurant and shopping scene. Its also loved for its golf resorts and luxurious homes. Paradise Valley is preferred by many people because it's one of the safest and wealthiest areas in the Valley.
Paradise Valley also has several museums, bars, restaurants, and recreational activities. For instance, you can visit McCormick-Stillman Railroad Park and enjoy its train rides. Like the Ahwatukee Foothills, Paradise Valley offers wonderful dining experiences.
Check out Prado, Lon's, Element's, and the El Chorro local spots. Fun places for kids to visit include the Phoenix Zoo, Party Jungle, and Childsplay Tempe. Depending on your ideal home design, you can choose from a ranch or Mediterranean-style house. Some highly-rated schools with low student to teacher ratio in this area include:
Kiva Elementary school
Christ Church School
Cherokee Elementary School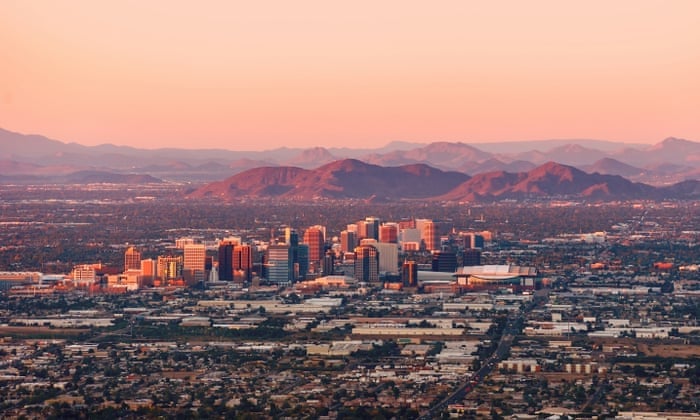 Arcadia
Arcadia is about 15 minutes from downtown Scottsdale and one of the most attractive neighborhoods to live in Phoenix. Historic citrus groves, leafy streets, amazing mountain views, and some of the best shopping and dining spots make this area one of Phoenix's most popular neighborhoods.
Unlike Roosevelt Row that focuses heavily on arts, Arcadia is a well-rounded neighborhood with plenty to offer newcomers. You can relax at the Arizona Biltmore Resort & Spa or enjoy a hike at Camelback Mountain, one of the most prominent landmarks in the area. Biltmore Fashion Park and Scottsdale Fashion Square are also a short drive away.
If you like munching on bruschetta boards, you can head to Postino Wine Cafe. The Chelsea's Kitchen restaurant is also nearby and is known for serving meals prepared with farm-fresh ingredients. Arcadia offers both historic and modern homes. Some excellent schools that produce students with great college readiness measures include:
Hopi Elementary School
Arcadia High School
Echo Canyon School
Roosevelt Row
Roosevelt Row is a creativity-fuelled Arts District that links downtown to several residential neighborhoods. This neighborhood is home to creative activities that reflect the unique culture and arts of the community. If you're into craft cocktails, galleries, indie films and art murals, this is one of the best areas in Phoenix for you.
Unlike the other neighborhoods we've featured, Roosevelt Row's emphasis is on the arts and puts extra effort into supporting artists. Events such as Third Friday Art Walk and First Friday A.R.T.S Market feature local artists in self-guided art walks. Additionally, numerous galleries and art venues line Roosevelt Row's mural decked streets.
This neighborhood also has some great restaurants that offer tasty treats. Nearby restaurants and bars include Taco Chelo, Carly's Bistro, and The Breadfruit and Rum Bar. Some Roosevelt Row's schools that allow students to take Advanced Placement Coursework include:
Cloves C Campbell Sr. Elementary School
Irene Lopez School
Valley View School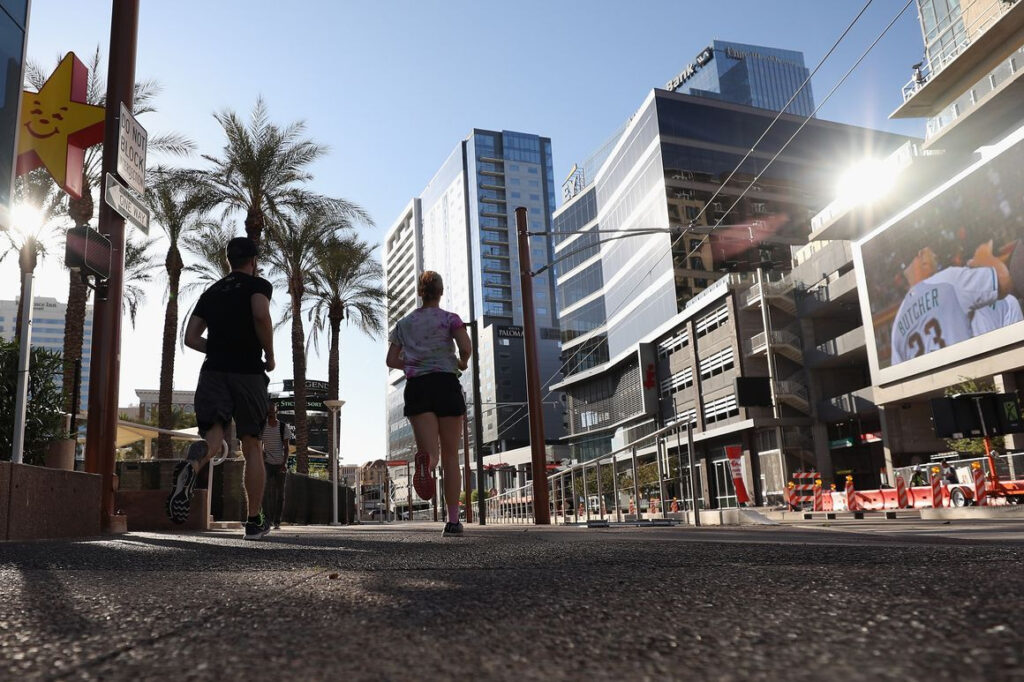 Desert View
Desert View is an excellent neighborhood for retirees and young professionals. With gorgeous newly built homes, 230 miles of bikeways, 19.7 square miles of open spaces and parks, Desert view is one of the most appealing areas to live in Phoenix.
This quiet, friendly area also has yoga studios and golf courses and offers many exciting outdoor activities. If you enjoy hiking, the nearby Sonoran Desert has beautiful trails and a variety of animals and plants. You can also head over to the Musical Instrument Museum with over 12,000 musical instruments.
Most of the shopping, dining, nightlife, and family events take place at the Desert Ridge Marketplace because the majority of this area is rural land. Unlike the other neighborhoods we have looked at, Desert View streets do not have streetlights to allow locals to view the stars at night.
Schools in this area whose curriculum aligns with state standards include:
Desert Vista High School
Desert View Elementary School
Desert Mountain School
What To Look For Before Moving to Phoenix
Before you move to Phoenix and enjoy what these neighborhoods have to offer, here are some things you need to consider: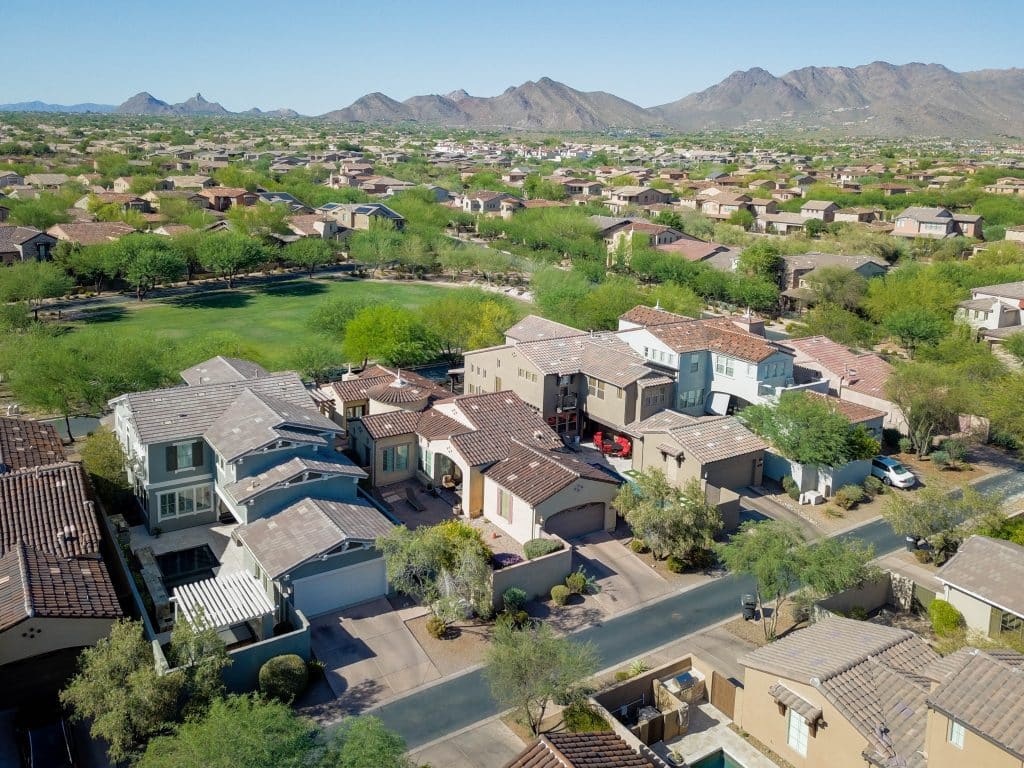 Cost of Living
The cost of living and the price of housing in Phoenix is 5% lower than the national average. Here's an idea of how much essentials cost in Phoenix:
Median home price: $330,334
Median rent: $1035/month
Carton of eggs: $1.76
Gas: $2.39/gallon
Milk: 1.89/gallon
Currently, the median income in Phoenix is $57,459. This means living above the poverty line in Phoenix requires $15.76/hour for a single full-time employed individual.
Job Market
Phoenix has a thriving economy and job market. Due to this, the neighborhood is attracting lots of tech start-ups, making it easy for software and web developers to find jobs.
Apart from the tech industry, Phoenix has a strong financial sector. Some of Phoenix's top employers include American Express, Bank of America, and Wells Fargo.
Restaurants
Phoenix has several award-winning restaurants that are known for their Native-American, Mexican and Southwestern-inspired cuisine. Phoenix foodies indulge in prix fixe menus and sample the neighborhood delights at the Devour Phoenix annual event.
Nightlife
There are several things you can do in Phoenix after dark. For cocktails, visit the Bitter & Twisted Cocktail Parlour or Shady Fine Ales & Cocktail. If you're a beer lover, spots like State 48 and Wren House are a perfect choice. For live music and nightclubs, visit Culinary Dropout at the Yard or the Crescent Ballroom. 
[lyte id='maTXjwvJq1A' /]
Conclusion
Now that you know the best suburbs to move to in Phoenix, consider neighborhood safety, the convenience of your new location, house styles, and quality of schools before relocating to your new home.