Mesa is the third-largest town in Arizona with a population of 450,000 people. The city boasts of major employment opportunities, amazing recreational and cultural attractions, 300 days of warm weather, and a vibrant downtown. Explore the best neighborhoods in Mesa to find your dream home.
Best Neighborhoods in Mesa
Whether you're looking for sprawling houses with beautiful mountain views, homes in a gated community, low maintenance condos, or homes on the golf course, Mesa has great homes that meet your needs. This city is divided into the Southeast, Northeast, and Central neighborhoods.
Southeast Neighborhoods
These neighborhoods offer a low cost of living, making them perfect for individuals desiring an economical lifestyle. Additionally, the low crime rate and the sunny weather make this area perfect for families.
These growing suburbs are attracting new businesses and homebuyers while the ASU Polytechnic campus attracts millennials and the younger generation. Some spectacular places to live in this area include: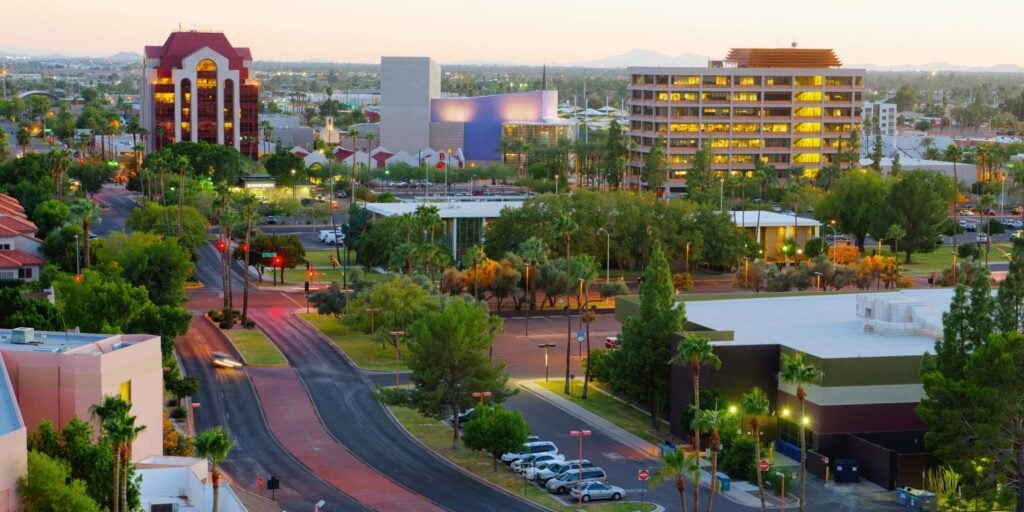 Mulberry
This suburb has extensive landscapes, attractive pergolas, and seven parks. It also has beautiful, tree-lined boulevards that take you to Mulberry Park, which is a short distance from the neighborhood. There are also four new home collections in this suburb including Americana, Heritage, Arbor, and Centennial.
Mulberry is a good place for homebuyers looking for newly built homes. Unlike Eastmark that has single-family homes, this neighborhood has many 3-5 bedroom houses. The place offers a wide range of amenities such as fitness studios, basketball playgrounds, and large event lawns.
The U.S. 60 Superstition and 202 Santan Freeways are within 1.8 miles of Mulberry. The neighborhood is also served by top-rated schools where you can take your kids. Some of these schools include:
Augusta Ranch Elementary School
Desert Ridge Junior High School
Legacy Traditional School
Eastmark
Eastmark boasts of innovative amenities, award-winning schools, and beautiful suburbs. The five-square-mile suburb was designed to encourage interaction and connection outdoors. The streets are pedestrian and bicycle-friendly to allow residents to enjoy outdoor activities together.
Within Eastmark, you can find youth programs, community events, and swimming pools. The neighborhood also has more than 40 parks for families to enjoy. Compared to the parks in Mulberry that only cater to families, the parks in this neighborhood are pet-friendly.
Homes include single-family houses that range in size from 1,300 to 5,700 square feet. Some of the well-performing schools in this area include:
Eastmark High School
BASIS Mesa Charter Shool
Sequoia Pathfinder Elementary School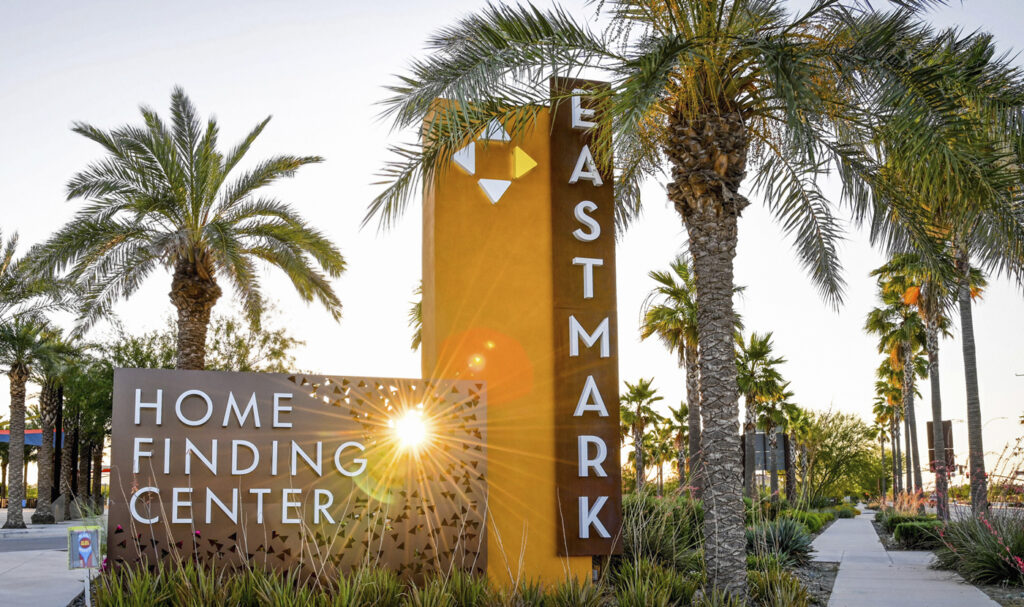 Northeast Neighborhoods
Mesa's Northeastern neighborhoods are good places for couples desiring to start a family. The area is surrounded by luxurious homes, spas, fitness parlors, and outstanding amenities that make these neighborhoods great for new families.
For instance, Salt River Recreation and Saguaro Lake offer paddling, boating, and other exciting water sports. Additionally, the weather isn't too harsh and the cost of living is lower. Here are some of the most popular Northeastern Mesa neighborhoods:
Red Mountain Ranch
This area comprises several gated and non-gated neighborhoods with about 1600 townhomes and single-family homes. Although this suburb has fewer homes than Alta Mesa, most of the luxurious homes provide spectacular city light and mountain views due to the proximity to Tonto National Forest.
The centrally located Red Mountain Ranch Country Club features a spacious clubhouse, an 18-hole golf course, 6 lighted tennis courts, a fitness center, and a pool. Within this stunning neighborhood, there are also numerous parks where you can enjoy walks and other outdoor activities.
The affluent community, elegant homes, and safe environment make Red Mountain Ranch perfect for professionals and families alike. Some top-rated schools where your kids can join include:
Red Mountain Ranch Elementary Ranch
Red Mountain High School
Alta Mesa
Alta Mesa has over 2000 homes with about 25 separate apartments that are gated for privacy and security. Unlike Red Mountain Ranch that offers single-family homes and townhomes, you'll find patio homes, custom homes, condos, and townhomes in Alta Mesa.
The neighborhood is conveniently located less than 3 miles from loop 202, with dining, shopping, and golf courses a few minutes away. The Alta Mesa Golf Club is one of the most spectacular amenities in the suburb. The private, equity club is owned and operated by the members.
At the club, you can enjoy social gatherings, exclusive events, and recreation activities. The suburb is also home to the Mesa Greenbelt Park, GeneAutry Park, and a large RV park. Schools in this area include:
Franklin at Alma Elementary School
Franklin Junior High School
Bush Elementary School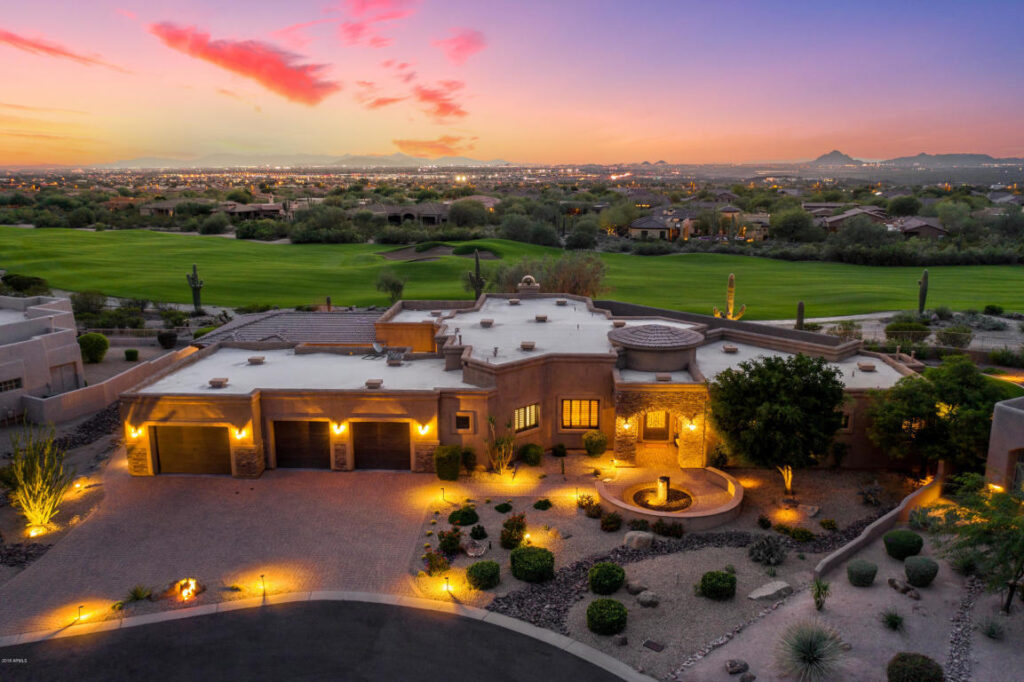 Central Neighborhoods
Central Mesa suburbs are among the most popular in the area for road bicyclists. The Desert Trails Bike Park is located centrally in the neighborhood with trails for different ages. The place has numerous eateries which serve delicious meals.
From regional parks with recreational areas to unique art avenues with food joints, the central suburbs are perfect for those people who want a vibrant neighborhood. Here are some great places you can consider moving to:
Dobson Ranch
Dobson Ranch is one of the largest suburbs within Central Mesa. The area provides affordable homes with apartments throughout the neighborhood. Most of the homes in the area are old as they were built between the 1970s and 1980s.
Today, Dobson Ranch is popular among students who school at the local Mesa Community College, as well as families. With its numerous retail shops, shopping, and art centers, this suburb is a great place to move to.
Compared to The Groves neighborhood, the Dobson Ranch is a dog-friendly place with a quiet environment. Within this neighborhood, you can enjoy a low crime rate and find excellent schools for your children to attend such as:
Rhodes Junior High School
Dobson High School
Crimson Elementary School
The Groves
Similar to Dobson Ranch, you can find top restaurants, businesses, shopping centers, entertainment joints, and amazing outdoor activities within The Groves. The neighborhood is close to the US-60 and 202 loop Freeways to enable you to access major roads within a short drive.
Besides relaxing at one of the six different parks nearby, you can also visit the two large malls located within a 15-minute drive from the neighborhood. If you want to enjoy dinner with your loved ones, you can head to local eateries such as the Sprite House and the Bread Basket.
If you love strolling in beautiful green spaces, The Groves is close to the Desert Botanical Garden, Papago Park, and many community parks for your family's enjoyment. When it comes to your children education, they can attend schools like:
Majorie Entz Elementary School
Highland Elementary School
Pilgrim Lutheran School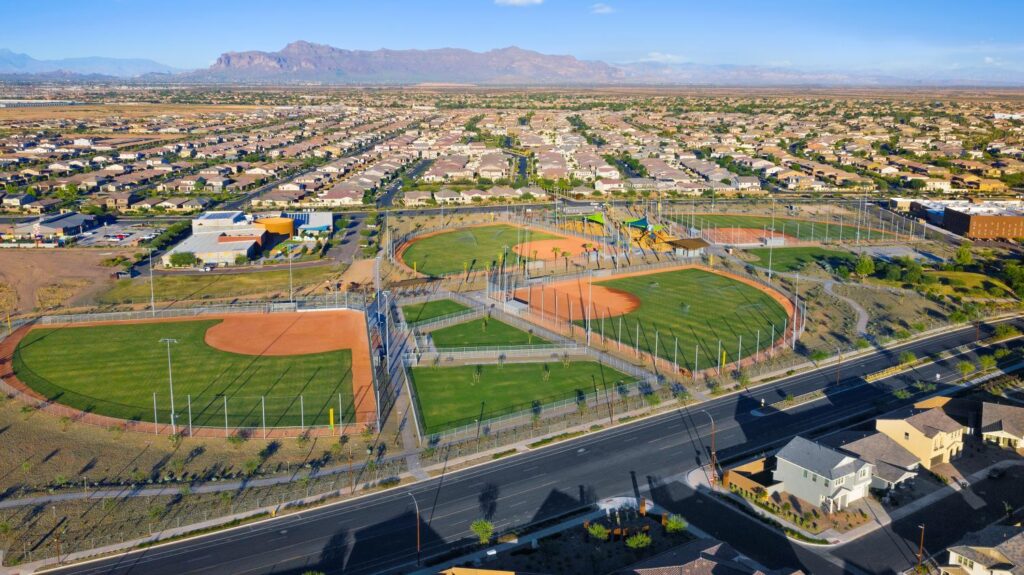 What To Look For Before Moving to Mesa
Mesa has great amenities and is also one of the best big cities to live in, making it an ideal place for you. If you like a vibrant community, you'll also enjoy living in this city. Other things to consider before moving to Mesa include:
Employment Opportunities
If you're searching for new job opportunities, Mesa is an excellent option. The city is expected to lead in job growth in the next few years. Businesses are also expanding, making Mesa more productive.
Weather
Mesa is a great area to live in due to its warm weather. Although you may feel cold during early winter, the temperature begins to rise as the spring season approaches. Moreover, an average of 86 degrees and low humidity makes Mesa's weather enjoyable.
Food
Mesa offers tasty meals from Cajun cuisine to Mexican food. You can also enjoy other food options like Greek, Italian, Indian and Japanese. If love cooking, you can go to Mesa's 12-month farmers' market and buy fresh meat, fruits, and vegetables.
Transportation
Mesa's residents can access the Valley Metro's regional public transportation. You can also take the light and bus rail, with some ride and park locations. Additionally, Mesa is bike-friendly and has many bike routes and bike lanes. 
Conclusion
Mesa is a good place for professionals, retirees, and families to live. The place has a low cost of living, excellent nearby amenities, and great weather. If you're looking for an affordable home, consider moving to Mesa.