Scottsdale is a city located in the eastern part of Arizona and makes up a part of the Phoenix metropolitan region. It was named after its founder, Winfield Scott, and is one of the fastest developing cities in the US. According to the 2019 census, it has a population of 250,602 people.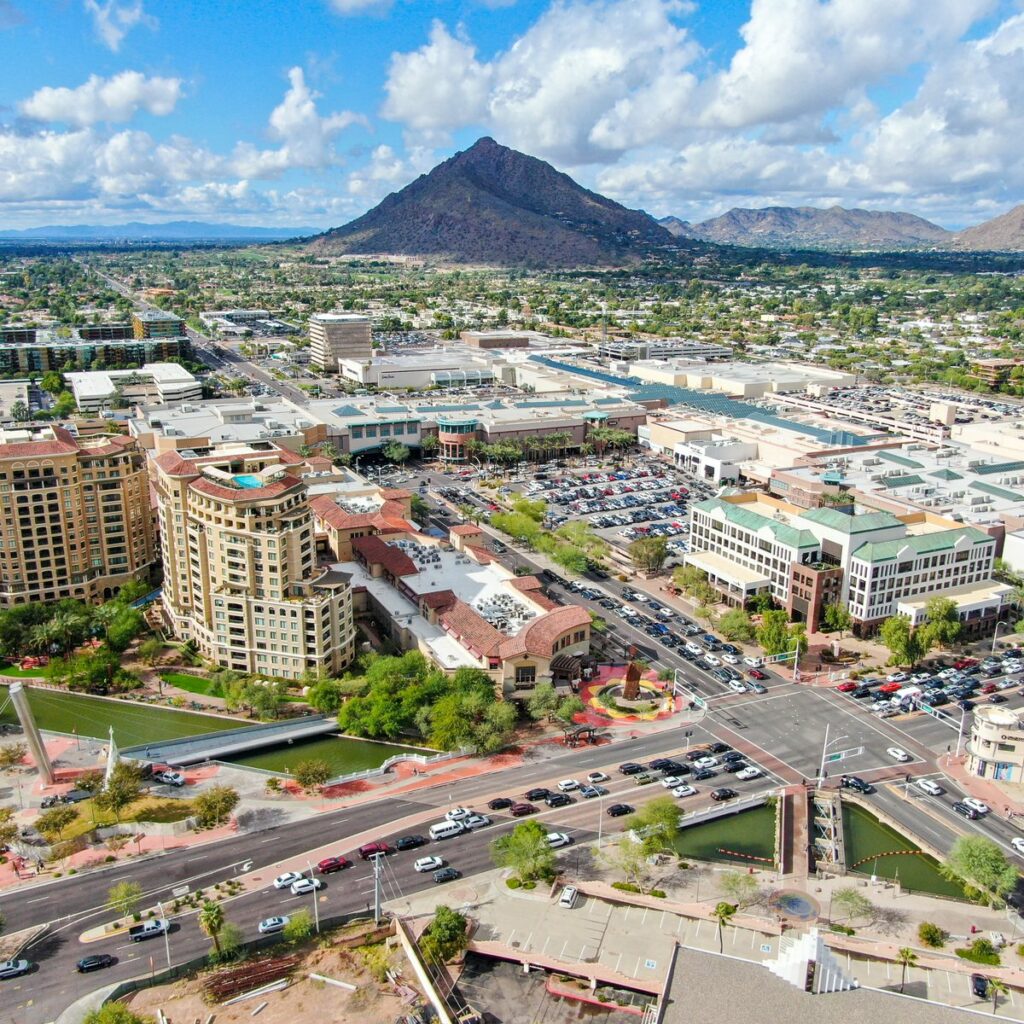 Best Places to Live in Scottsdale Area
Scottsdale is a desert city well known for its exquisite hotels, resorts, and destination spas that receive thousands of tourists annually. If you are searching for the best, thriving neighborhoods with convenient access to basic amenities to live in, here are some of the choicest locations within Scottsdale worth considering.
Paradise Valley
This peaceful and luxurious community with a suburban feel is one of the top locations in Scottsdale. It is considered the most affluent neighborhood in Scottsdale and is home to many influential individuals including Alicia Keys and Michael Phelps.
Famous for its luxurious golf courses, spas, flourishing nightlife, and top-rated restaurants, its residents enjoy access to a variety of attractions. In addition to this, it has convenient access to standard schools like Biltmore Preparatory School and Kachina Country Day School, restaurants, outdoor parks, and shopping centers.
North Scottsdale
North Scottsdale is a highly developed neighborhood with a friendly community feel. It is popularly known for its hiking and mountain climbing trails. This area offers a mixed variety of houses ranging from single-family homes, multi-family homes, and apartment complexes to ranch homes and condominiums.
With easy access to standard schools, shopping centers, luxury hotels, and golf resorts that it provides, North Scottsdale is the place to be.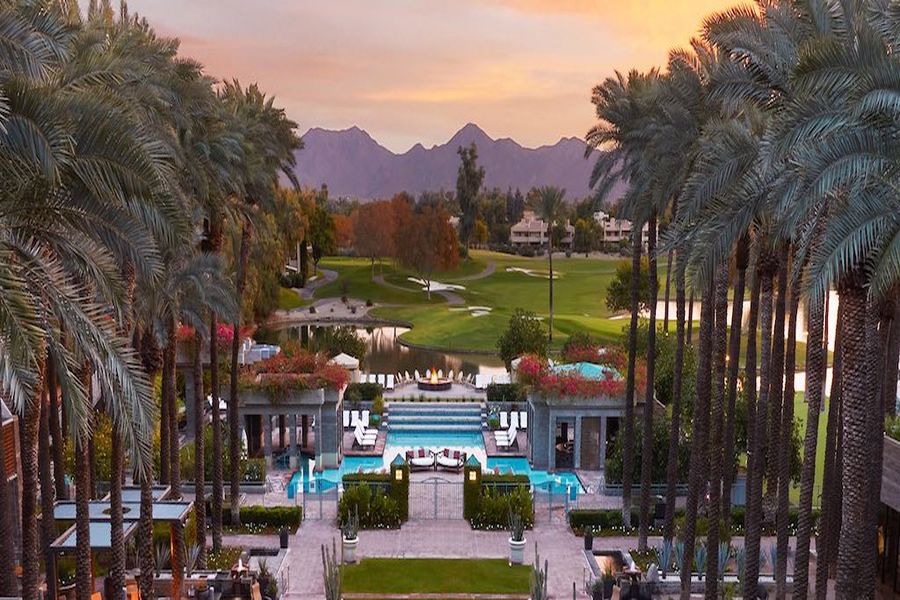 South Scottsdale
This unique, affordable community is ideal to raise a family. With a rich artistic history and culture, South Scottsdale is the perfect environment for art lovers. It has convenient access to schools, several shopping malls, art galleries, and hotels and with the steadily growing economy, plenty of job opportunities for its residents.
Gainey Ranch
Gainey Ranch offers a quiet environment and is relatively safe, especially for raising a family. With its proximity to important places such as Scottsdale Airport and Fashion Square, Gainey Ranch is an ideal location for businesses and tourism. It has access to upscale boutiques and shopping centers, standard schools, restaurants, luxurious resorts, and golf courses.
Old Town Scottsdale
This is the perfect place for people looking for an affordable neighborhood with a metropolitan feel. The blend of a rich cultural history with a touch of modern urbanization surely gives one a unique feeling. This community boasts of a variety of homes ranging from single and multi-family homes to radical mansions. Residents also enjoy easy access to unique shops and boutiques, restaurants, galleries, top-rated schools, and all necessary amenities.
McCormick Ranch
This picture-perfect suburban neighborhood is one of the best places to live in Scottsdale. Surrounded by breathtaking mountains and lakes, residents enjoy a more picturesque outdoor experience. Residents also enjoy access to a variety of restaurants, shopping centers, boutiques, top-rated schools, recreational parks, bakeries for residents, and all the basic comforts necessary to make life easy.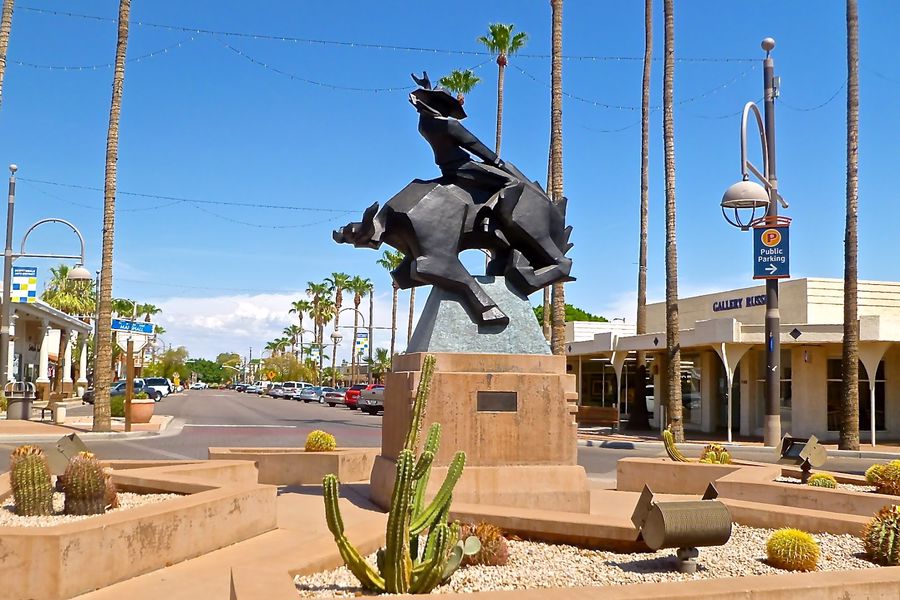 What About the Kids?
The kids are not left out as Scottsdale has several fun and attractive outdoor centers for the whole family to have a great time. For a fun-filled outdoor experience, the Scottsdale Civic Center Mall is a great choice. This is a beautiful outdoor space with gardens, fountains, and a public library. The Scottsdale Museum of Contemporary Art and Scottsdale Center for the Performing Arts is also located here.
Another great location to surely take our kids to is the Odysea Aquarium. This state-of-the-art masterpiece boasts of a variety of sea life and creatures, so get ready to have the fun of a lifetime. Other exciting locations to visit include:
You can rest assured knowing that Scottsdale has lots of standard and top-rated schools: pre-school, elementary, public, and private high schools to provide the best educational foundation.
The Scottsdale Police Department, Scottsdale Fire Department, and HonorHealth Scottsdale Shea Medical Center are also ready and on standby to ensure the general safety and wellbeing of the residents.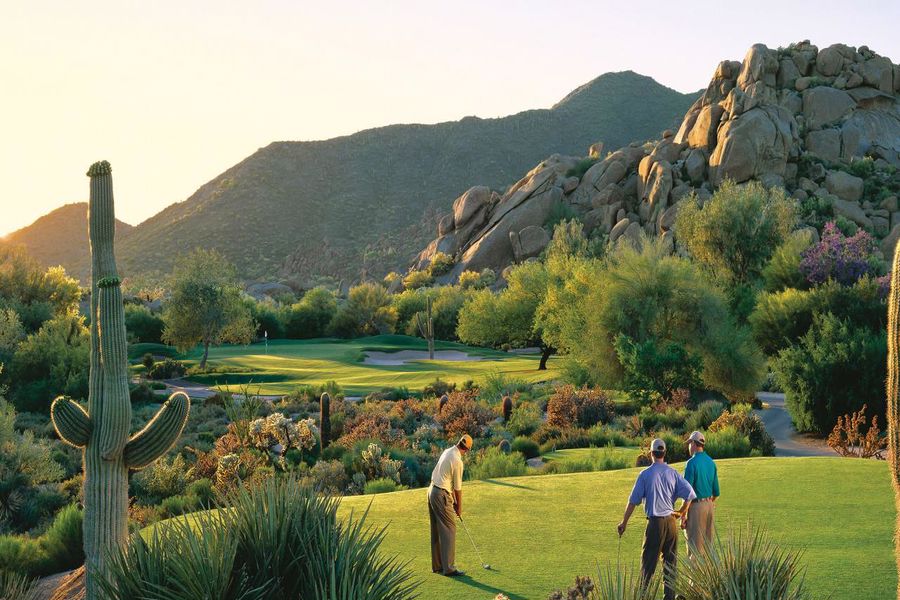 What to Expect From AZ Flat Fee in Scottsdale
At AZ Flat Fee realtors, we believe in providing quality services at the most affordable rates. Instead of paying the usual 3% to list your property on the market, you get to pay a flat fee of just $3500. You get the best realtor services while saving hundreds of dollars!
We are full-service, local flat fee realtors with the goal of providing an unrivaled level of professionalism and excellent customer service throughout the duration of the transaction. We have pretty much the best agents in the tri-state area with a rich knowledge of the local communities. We also have a wider network in the region than most realtors so we can guarantee the success of your buying or selling process in a short time.
Our experienced team of realtors is there with you every step of the way to provide you with the best investment strategies and plans to help you make informed choices in order to avoid undesirable occurrences and provide you with the best real estate experience. The process of buying and selling has been divided into three easy steps:
Contact Us. Reach out to us by calling, texting, or emailing us with your inquiries on selling, buying, or both and we are always ready to answer in detail any questions you might have. Following this, a Scottsdale Arizona Realtor would book an appointment for the appraisal of your property, comparing it to similar properties in the market as well as defining the best marketing plan.
Marketing and Advertisement of your property. We capture stunning, high-quality pictures and promote your property on a good number of real estate websites including MLS. Our experienced realtors also make use of our rich network with other local realtors to market your home, advise on negotiations, set up showings, and assess offers. We take care of all the difficult work for you.
Once an offer is made, we work jointly with all the parties involved in the entire process to ensure the deal ends smoothly. Our realtor agents make sure to keep you well informed of the entire process until completion.
Why AZ Flat Fee in Scottsdale?
At AZ Flat Fee, we ensure that our clients get the full realtor experience, including but not limited to amazing photography and marketing, coordination of tours, negotiations, offers, and closing. The best part is that we do all of this for a flat fee of $3,500.
We have agents who have lived all their lives in Scottsdale, thereby giving you the added advantage of local experience. All of our services are geared towards ensuring you have a seamless home selling or buying experience.
Whether you are relocating within Scottsdale, or you're moving in from a different city, your best bet to navigate the real estate market is your local AZ Flat Fee agent.
Please fill out this form for more information about our services.